Recent newsletter – Periodical Cicadas!
What are singing insects?
The four major groups of insects that sing are the Katydids, Cicadas, Grasshoppers, and Crickets. All of these insects are herbivores that live and feed on plants. In order to find a mate, these bugs will make sounds by rubbing their wings or legs together, causing noisy vibrations that can be heard all summer long in lawns, meadows, forests, thickets, and marshes across the Midwest. Many can even be heard in the parks, streets and alleyways of your city!
Singing insects are special in that they can be uniquely identified by their sounds, whereas other species that do not sing, such as dragonflies, have to be identified by sight. We can learn a lot about species diversity just by listening on a warm summer night.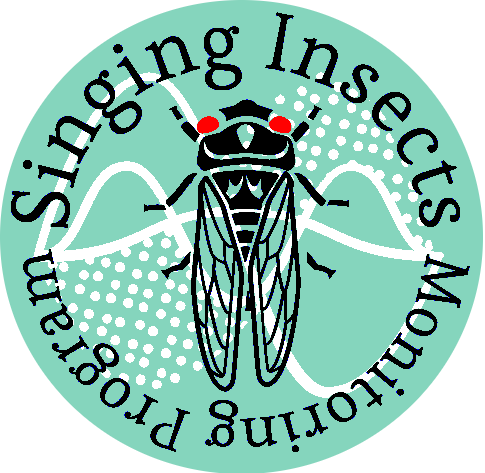 What is the monitoring program?
Citizen science happens when everyday people participate in research, collecting data towards a common, shared goal. The goal of the Singing Insects Monitoring program is to create a sound map for insect populations in the Chicago Wilderness region. Singing insect monitors collect sound data, make field recordings, and share information about species heard in the research area.

You do not need to be an expert to participate. You can always add observations yourself to the project using the iNaturalist desktop site; however, participants who attend workshops and trainings will get an overview of the differences between local species, learn how to use recording devices like smart phones to collect more accurate data, and in some counties will be able to sign up for permission to monitor after dark in nature preserves.
How can I get involved?
Sign up for updates on the next training via our contact form or check the Events page. further details about workshops and trainings will be updated in March 2020.

No experience or equipment is necessary, and kids and adults alike can participate. In fact, kids can often hear the sounds of insects better than adults!
Right now the region is limited to the Chicago Wilderness Area to support Carl Strang's research on singing insects in this region. This project documents the presence/abcense of insect species and does not reflect population numbers.
If you are a researcher or wish to use the data in some way or help us by hosting a training or walk at your site, even if it is not in the specified search area, we welcome involvement from museums, scientists, nonprofit organizations, and universities.
Who is involved with this project?
This webpage is inspired by the work of Carl Strang, a naturalist from DuPage County, who, after years of careful research and listening in the field, compiles an annual guide to all the singing insects in the Chicago region. He had already worked on the framework for a citizen science program, and this project began in support of it. Negin Almassi runs trainings through the Forest Preserves of Cook County at the Sagawau Field Science Station. Erica Lemon hosts workshops at Kane County forest preserves, and Eric Leonardson of the Midwest Society of Acoustic Ecology helps lead listening walks and field recording workshops in support of this effort. If you would like to lead a program through your local nature center, please feel free to get in touch and use these free resources.

If you are interested in getting a copy of Carl's guide, he can be contacted at wildlifer@aol.com – check out his website, Nature Inquiries, for updates on his work. This project has also received support from the Forest Preserves of Cook County, the Midwest Society for Acoustic Ecology and the Chicago Park District's Natural Areas program.